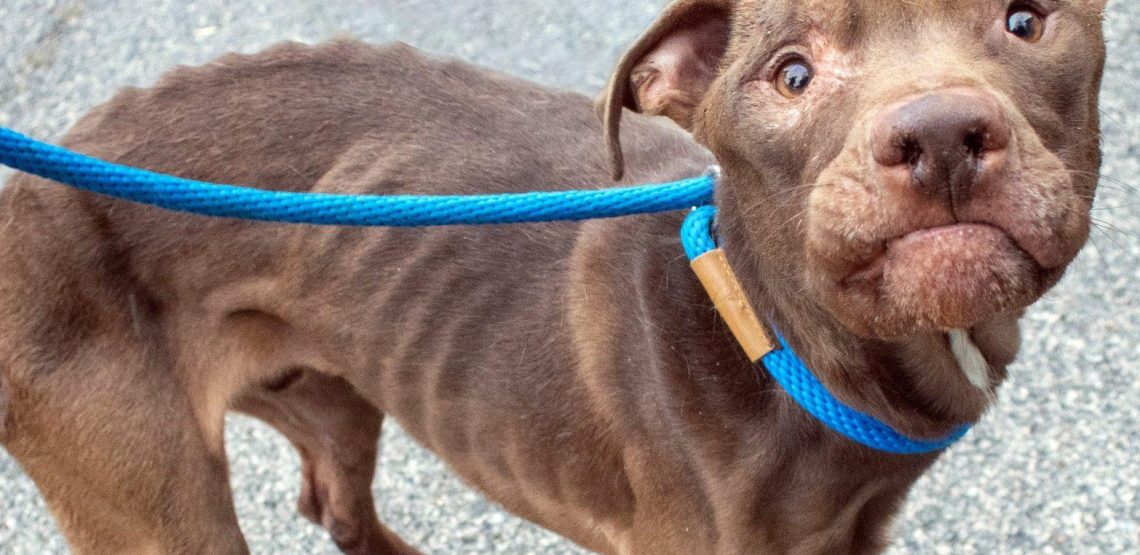 Bones – Ready for Adoption!
My name is Bones and I need your help. This is my "before" picture. It's what I looked like when I first came to the shelter. Yep, those sunken eyes, those long nails… they tell me I was badly neglected and mistreated for a long time and that the conditions I grew up in were not okay-, but to me, it just seemed normal. It was all I knew.
Well, I've been in the shelter a couple of months now because I needed a lot of care to get healthy. And I don't look like this anymore! I'll show you my "after" pictures in the comments. I look very handsome. And… this is the life! Regular meals, soft beds, a clean place to sleep, and lots of love and attention? Count me in! But it's a really big change and there's a LOT I still have to learn. Like I'm still getting used to the idea that I'll always have enough to eat. And when it comes to some of the basics, like walking on a leash, I'm just kind of unfamiliar with the concept. I know these are basic dog things, but I've never had anyone willing to teach me.  There are some dog things I know without having to be taught. Like, in spite of the way I've been treated by humans, I'm extremely loving and trusting. I just want to cuddle up to someone and let them hold me til my worries melt away. I lived with other dogs and cats in my previous home, so I think there's a good chance I could do that again. I'd have to meet any potential dog siblings before committing myself to that, though- every dog has their own personalities and I want to make sure we're a match! I've already come a long way in the kennels and now, I need you. I need someone to show me what "home" really means. I need someone who understands that I'll need some patience and work while I learn all about being a dog- all the skills, the rules of living in a house, all the joys of things like fetch and walkies and finding a really great stick. Someone who will never, no matter what, give up on me.
Do you know anyone like that? I've got to make up for lost time!  I'm about three years old, neutered, up to date on shots, and fully vetted. I'm available for adoption!